Geography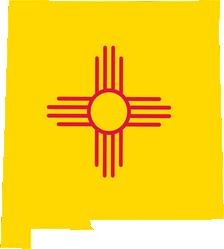 New Mexico is located at a longitude of 103°W to 109°W and a latitude of 31° 20′N to 37°N.
Geographically it is the fifth largest state yet it has the least amount of surface water of all 50 states, as a percentage of its land mass (0.2%).
Rio Rancho is located at 35°17'10" North, 106°40'14" West (35.286185, -106.670660).[6] It is bordered by Albuquerque to the south, the Santa Ana Indian Reservation to the north, and Bernalillo and Corrales to the east. The northeast corner of the city is bounded by the Rio Grande. To the west of the city limit lies an escarpment.
According to the United States Census Bureau, the city has a total area of 73.5 square miles (190.4 km2), of which, 73.4 square miles (190.2 km²) of it is land and 0.1 square miles (0.2 km²) of it (0.11%) is water.
The Continental Divide runs through the entire length of New Mexico, closely following the path of the Rio Grande.  The Divide represents a major U.S. division of watersheds: all precipitation that falls to the west of the Divide eventually makes its way to the Pacific Ocean, while precipitation that falls to the east of the Divide makes its way to the Atlantic Ocean.
The diverse geology of the state provides terrain that includes six of the seven "life zones."  A life zone is a belt of vegetation and animal life that appears with increases in altitude and increases in latitude.  With such a variation in landscapes, the animal and plant species also represent a vast range like no other on the planet.
[hr_small]
Climate
The high desert climate is classified as arid to semi-arid, with lots of sunshine and very low humidity.  Average precipitation in Sandoval County is about 10″ per year, and the state average is about 14″.  Most precipitation falls as rain during the summer months.
Much of New Mexico is located in the Upper Chihuahuan Desert, which is colder than the Sonoran desert in Arizona.  Well-known native plants include yucca, cholla cactus, prickly pear cactus, piñon pine, juniper, cottonwood (in riparian areas), and Ponderosa pine (in higher elevations).
[hr_small]
Green Report
In keeping with the philosophy of the Quality of Life plan, SSCAFCA continues to strive for sustainable practices that lower impact on the environment. In 2013 the first Green Report was presented to the Board of Directors. Click here  to see the Green Report 2013.
Stormwater Management Program
Stormwater quality in a location with limited water resources is critically important.  SSCAFCA is regulated on stormwater quality that it discharges to the Rio Grande and believes that we as a community should strive to prevent pollutants from being transported out of urban areas and into the river.  For more information on stormwater quality, click here.