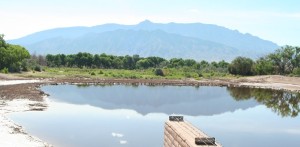 All of SSCAFCA's facilities completely drain within 96 hours. The only major facility that does not completely drain is the energy dissipating structure at the Harvey Jones outlet and the section of the outlet from the Corrales Road bridge to the end of the outlet, which retains water until it can evaporate. SSCAFCA is working with the Middle Rio Grande Conservancy District (MRGCD) to mitigate this problem and remove standing water from the area. Standing water, whether it is in the apparently decorative pond of a wetland or in the engineered holding pond of a drainage facility, always raises concerns about mosquitoes. SSCAFCA takes the broadest possible approach to mosquito control, using chemical and natural defenses as appropriate. We believe natural defenses are the better approach to long-term control wherever they can be made reliable. Where chemicals are required, SSCAFCA uses Agnique MMF pesticide spray which targets all phases of the mosquito life cycle and Altosid long-lasting dunks, which also target all phases of mosquito growth and last up to three months in our facilities.
Zika

Zika is the virus that causes Zika virus infection. The virus is mainly spread to people through the bite of an infected mosquito. Only certain kinds of mosquitoes are able to transmit the virus that can cause disease. About four out of five people infected with Zika virus will have no signs or symptoms of illness. The people who do become ill may have fever, rash, joint pain, or conjunctivitis (red eyes). Symptoms are usually mild and last from a few days to a week. It is rare for a person with Zika virus infection to become severely ill or be hospitalized.
For additional information on Zika please click on the links below to visit each site:
New Mexico Department of Health-Zika
Center for Disease Control-Zika
 West Nile Virus Update   
Residents of New Mexico continue to be concerned with the West Nile virus during the monsoon season. SSCAFCA has been using mosquito dunks in facilities that retain water after a flood event, for mosquito control. When standing water is prevalent SSCAFCA is augmenting the dunks by using Agnique MMF. The mosquito dunks only target the larval stage of the mosquito while the MMF is a mono-molecular film that targets the larval, pupal, and adult stage of the mosquito. The Operations and Maintenance staff monitors SSCAFCA's facilities and employs mosquito dunks every 21-25 days in facilities that retain water from a storm event.
[hr_small]
B.A.T.S "Biological Alternatives To Spraying"
Bats, birds, fish, and other insects are some of the natural predators that feed on mosquitoes and can play an important role in reducing mosquito population and insect-borne diseases. At the outlet to the Harvey Jones, the inlet to the Harvey Jones, Tree Farm Dam A, and Dam 1 in Corrales Heights, we've erected "bat houses" as part of our B.A.T.S – Biological Alternatives To Spraying program.
Bats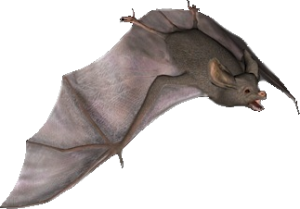 As primary predators of night-flying insects, bats consume huge quantities of insects, including mosquitoes (some species actually prefer mosquitoes), and can also be valuable biological control agents. Bats do not compete either for food or space with birds, but they do like to roost in the attics and eaves of human habitations, where they are seen as unwelcome pests, and as a result their population has been declining. "Bat houses," artificial structures designed to attract and house bats, are increasingly used as an alternative method for insect control and to help restore bat populations near aquatic habitats. These bat houses can accommodate 50 to several hundred bats, depending on the size and the number of chambers.
A bat house construction program was started in the Village of Corrales by Mr. Jim McCaulley to help private residents erect "bat houses" as an ecological alternative for insect (mosquito) control during the summer months. See more on our Bat House Project here.
SSCAFCA continues to explore all alternatives to provide mosquito control and is committed to implementing the most effective and environmentally safe methods available.