Current Research
Time Lapse Cameras for Monitoring Flow
Monitoring streamflow in arid regions is difficult and costly. Time lapse photography using commercially available trail cameras can provide a viable, low-cost, low-tech option for measuring flow depth. Results from a field trial by SSCAFCA staff in the Rio Rancho area are summarized in a technical note published in the ASCE Journal of Hydrologic Engineering: Schoener, G. (2017). "Time-Lapse Photography: Low-Cost, Low-Tech Alternative for Monitoring Flow Depth." J. Hydrol. Eng. 23(2). https://doi.org/10.1061/(ASCE)HE.1943-5584.0001616
A copy of the peer reviewed, accepted manuscript is available here.
Urban Imperviousness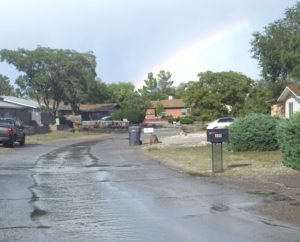 Impervious surfaces have long been recognized as important factors that influence runoff from urban areas, particularly during small storm events. In recent years, small storm hydrology has become increasingly important to support water quality evaluations. In this case study, SSCAFCA presents a modeling approach for urban imperviousness that increases accuracy for small runoff events without negatively affecting model performance for larger storms.
The published paper by SSCAFCA staff can be obtained from the ASCE library: Schoener, G. (2017). "Urban Runoff in the U.S. Southwest: Importance of Impervious Surfaces for Small-Storm Hydrology." J. Hydrol. Eng. 23(2).
https://doi.org/10.1061/(ASCE)HE.1943-5584.0001610
You can access a copy of the peer reviewed manuscript here.
Transmission Losses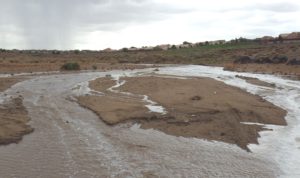 Arroyo sediments often have much higher infiltration rates than soils of the surrounding land surface. As runoff flows through an arroyo, a portion of the stormwater infiltrates into the alluvial sediments. Those so called transmission losses can have a significant impact on peak discharge and total runoff volume, particularly during frequent, low intensity storm events. In a recent study, SSCAFCA staff quantified transmission losses in the Montoyas Arroyo in Sandoval County, New Mexico.
The findings were published in the ASCE Journal of Hydrologic Engineering: Schoener, G. (2016). "Quantifying Transmission Losses in a New Mexico Ephemeral Stream: A Losing Proposition." J. Hydrol. Eng. 22(3). http://dx.doi.org/10.1061/(ASCE)HE.1943-5584.0001473
You can access a copy of the peer reviewed manuscript here.
A proposal for Green Stormwater Infrastructure Practice
By Ms. Tess Houle, AridLID Coalition Steering Committee Member
Green stormwater infrastructure (GSI) offers many benefits, including improved water quality, healthier tree canopy, recreation, and habitat.  However, because the contemporary practice of GSI  was developed in temperate areas, it is not yet as widely understood nor practiced in most arid and semi-arid climates.  This research clarifies the relevance and legality of GSI in the Middle Rio Grande Valley, and synthesizes practices from GSI/LID guides from semi-arid places in the U.S. Recommended practices are then applied to a demonstration site at Central New Mexico Community College.  A copy of Tess' thesis can be viewed here.