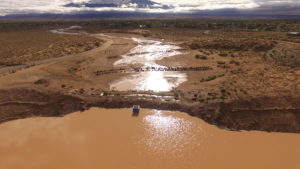 The Southern Sandoval County Arroyo Flood Control Authority (SSCAFCA) was created in 1990 to address regional flooding and storm water drainage problems in the urbanized area of southern Sandoval County.
Flood Control in the desert is critical, because we receive the majority of our rainfall at one time during the monsoon season. Rain events during monsoon are typically short heavy bursts.  The soil does not have time to absorb all of the rain and our arroyos can appear to be rivers.  This rapidly moving stormwater picks up sediment causing erosion, trash and debris are also carried to the Rio Grande. Stormwater can directly impact the quality of water in areas where it is discharged.
---
How Is Our Stormwater Regulated?

The federal government's Environmental Protection Agency (EPA) oversees the National Pollutant Discharge Elimination System (NPDES) program, which regulates discharges (including stormwater discharges) to the nation's waterbodies.
The State of New Mexico sets water quality standards for the state. The State of New Mexico has been contracted by EPA to develop these water quality standards and oversee the Stormwater NPDES program for the State of New Mexico.  The EPA retains enforcement authority for NPDES permit compliance.
Local governmental entities, such as SSCAFCA and its associated communities, implement programs to meet the permit requirements of our NPDES permit. SSCAFCA is part of a watershed based NPDES permit. This permit names 18 potential permittees within the Middle Rio Grande in Sandoval and Bernalillo Counties.
Regulated entities (like SSCAFCA and its associated communities) must:
obtain coverage under an NPDES storm water permit. This involves applying for and obtaining the NPDES stormwater permit.
develop storm water management plans (SWMPs)
implement best management practices (BMPs)
implement SWMP to the maximum extent practicable, when implemented best management practices (BMPs) identified in the SWMP are expected to result in significant reductions of pollutants discharged into receiving waterbodies
Annual reporting to EPA on storm water management program activities is required as a condition for permit coverage under the current NPDES Watershed Based discharge permit. A draft report covering the activities conducted during each permit year, from July 1st, to June 30, is made available to the public for review at the SSCAFCA office or from the SSCAFCA website. Public input on the report will be considered in preparation of the final report submitted to EPA on December 1st annually.
---
How Can We Achieve All Of Our Region's Stormwater Requirements?
Through partnership, SSCAFCA and its associated communities will be the most effective course of action to achieve management goals
Community groups can help spread the word to the public about what actions we all need to take in our individual lives to help protect storm water from pollution!
We must all work together to meet the Watershed based storm water permit goals!
We need the help of community groups such as:
community service organizations
home owner associations
libraries
schools
government agencies
newspapers and television news stations
---
SSCAFCA NPDES Permit Documents
2022-2023 MS4 Final Annual Report
2022-2023 MS4 Final Annual Report
2021-2022 MS4 Final Annual Report
2021-2022 MS4 Final Annual Report
2020-2021 MS4 FINAL Annual Report
FINAL MS4 Annual Report 2020-2021
2019-2020 MS4 FINAL Annual Report
FINAL SSCAFCA Annual Report – 2019-2020
2018-2019 MS4 Annual Report to EPA-
FINAL Annual Report 2018-2019 – Part 1
FINAL Annual Report 2018-2019 – Part 2
2017-2018 MS4 Annual Report to EPA-
FINAL 2017-2018 Annual Report-Part 1
FINAL 2017-2018 Annual Report-Part 2
FINAL 2017-2018 Annual Report-Part 3
2016-2017 MS4 Annual Report to EPA –
Attachment_1_Part_1_CMC_Monitoring _FY17_Wet_Seas_Memo
Attachment_2_Part_2_CMC_Monitoring _FY17_Wet_Seas_Memo
Attachment_3_CMC_Monitoring _FY17_Dry_Seas_Memo
Attachment_4_2016-2017 MRGSQT Outcomes Report_FINAL
Watershed Based NPDES Permit –EPA PERMIT NMR04A000 with MODIFICATION 2
SSCAFCA Notice of Intent to discharge – FINAL SSCAFCA NOI – 6-19-15
SSCAFCA 2016 Annual Report – SSCAFCA 2016 Annual Report
SSCAFCA Stormwater Management Plan – SSCAFCA SWMP Final Revision 0 – 11-30-16
SSCAFCA Stormwater Management Plan  (Rev 1) – SSCAFCA SWMP Final Revision 1 – 11-27-19