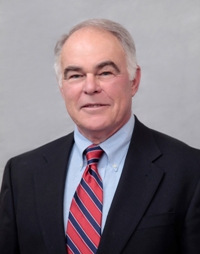 Jim Fahey and his wife Linda moved to New Mexico in 1997 to join the orthopedic faculty at the UNM Medical School. Although he was still working full time, he managed the Corrales Growers Market for a year and served as a board member of that agricultural organization. Linda retired from her career as a registered nurse and immersed herself in the civic involvement including the Corrales Main Street and Friends of the Corrales Library.
In 2003 he retired from UNM Medical School and began more actively pursuing his passion for gardening. Jim's involvement in Corrales continued to grow like his vegetables, as he served three terms on the Corrales Village Council. In 2022 he ran and was elected mayor of Corrales.
Jim's interest in watershed management, flood control and storm water was triggered by a flooding event in 2006 that was successfully handled by SSCAFCA and the Village of Corrales. After assisting in the emergency action caused by this storm water event, Jim became even more involved in the community's flood control. Jim regularly attended SSCAFCA board meetings following this event as a representative of the Village of Corrales. In 2011 Jim ran and won a seat on the SSCAFCA Board of Directors.
Jim's goal for SSCAFCA is to pursue additional options for storm water use in the rehabilitation of wetlands and restoration of the Bosque cottonwood forest.