Alberta Watershed Improvements, Phase 2
The Alberta Watershed Improvements, Phase 2 project, consists of the installation of approximately 3,640 linear feet of storm drain with diameters ranging from 24" to 54", paving of Alberta Dr. from Saratoga to NM528, installation of curb and gutters along Alberta Dr., and associated manholes and curb inlets for stormwater in order to protect residences and infrastructure from stormwater impacts.
This project was funded through a grant from the Federal Emergency Management Agency, State of New Mexico Capital Outlay appropriations, and SSCAFCA bond funds.  Total project cost $1,593,500.
The project was completed in May 2017.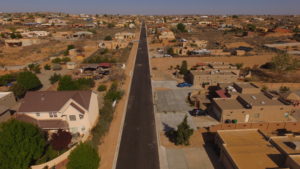 Aerial view of western portion of completed Alberta Road project, looking west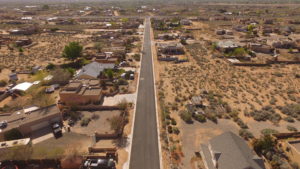 Aerial view of eastern portion of completed Alberta Road project, looking east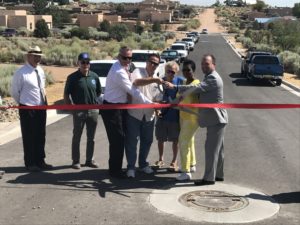 Project ribbon cutting, August 10, 2017