SSCAFCA Bats Video from SSCAFCA on Vimeo.
In conjunction with Michelle McCaulley of the Rio Grande Basin Bat Project , SSCAFCA is employing bat houses at various facilities in an effort to control airborne insects which may pose health problems. SSCAFCA has been working with Michelle for several years as a supporting member of the bat project as well as providing locations for bat houses in an attempt to encourage bat habitat near our facilities.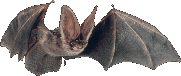 As primary predators of night-flying insects, bats consume huge quantities of insects, including mosquitoes (some species actually prefer mosquitoes), and can also be valuable biological control agents. Bats do not compete either for food or space with birds, but they do like to roost in the attics and eaves of human habitations, where they are seen as unwelcome pests, and as a result their population has been declining. "Bat houses," artificial structures designed to attract and house bats, are increasingly used as an alternative method for insect control and to help restore bat populations near aquatic habitats. These bat houses can accommodate 50 to several hundred bats, depending on the size and the number of chambers.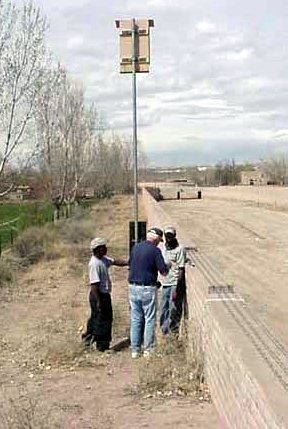 A bat house construction program was started in the Village of Corrales by Mr. Jim McCaulley to help private residents erect "bat houses" as an ecological alternative for insect (mosquito) control during the summer months. In 2002, Mr. McCaulley approached SSCAFCA to see if there was any interest in participating in the program. SSCAFCA welcomed the program and became involved on an experimental basis by erecting the two bat houses at the outlet to the Harvey Jones. Later we added additional bat houses at the inlet to the Harvey Jones, Tree Farm Dam A and Dam 1 in Corrales Heights.
Initial results were disappointing as no bats were attracted to the houses. Moving the houses into a shady area to reduce the thermal load might make them a little more inviting and we continue to experiment with this method of control. It will be several years before we can accurately assess the success of the bat house program.
SSCAFCA did get bats for the first time at the Harvey Jones Channel inlet and outlet in the Village of Corrales.
SSCAFCA continues to explore all alternatives to provide mosquito control and is committed to implementing the most effective and environmentally safe methods available.