SSCAFCA participates in the annual spring mesa clean up project sponsored by Keep Rio Rancho Beautiful (KRRB).
KRRB's mission is to educate, facilitate, and inspire our community to take pride and ownership in proper solid waste handling practices, recycling, litter prevention, beautification, and environmental education.
KRRB has been an affiliate of Keep America Beautiful since 1989. To learn about state and national  programs visit: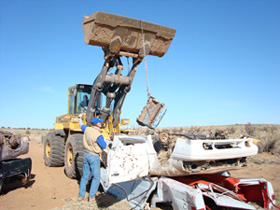 New Mexico Clean and Beautiful and
Keep America Beautiful
For more information, please call (505) 891-8389.
SSCAFCA has always been and will continue to be a strong supporter of KRRB and we look forward to our next joint venture.