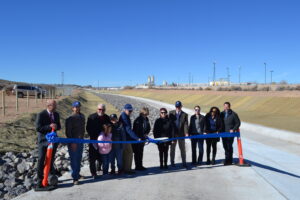 The Lowers Montoyas Bank Stabilization Project ribbon cutting was held on January 12th. This 4.032 million dollar project was funded by a FEMA/DHSEM Pre-disaster Mitigation Grant in the amount of 3.2 million dollars with additional funding from State of New Mexico Capital Outlay Funds, the City of Rio Rancho and SSCAFCA Bond Funds.
The outcome of this project will be to increase the flood-carrying capacity and provide erosion protection along the Arroyo de los Montoyas between NM528 and City of Rio Rancho/Village of Corrales municipal boundary.
The project was designed by SSCAFCA, with additional structural engineering from Smith Engineering Company. It was built by Vital Consulting Group with project management and oversight provided by SSCAFCA.
On hand at the ribbon cutting (From left to right):
Matthew Geisel, City Manager, City of Rio Rancho; Andrés Sanchez PE, Design Services Director, SSCAFCA; John Chaney, Secretary, SSCAFCA Board of Directors; James Fahey, Mayor, Village of Corrales; Cassandra D'Antonio, Chair Pro Tem, SSCAFCA Board of Directors; New Mexico State Senator Brenda McKenna; Dave Gatterman PE, Executive Engineer, SSCAFCA; Caitlin Purigraski PE Smith Engineering Company; Jocelyn Padilla, Mitigation Specialist, NMDHSEM; Carl Martinez, Project Manager, Vital Consulting Group