Southern Sandoval County Arroyo Flood Control Authority (SSCAFCA) is pleased to announce the completion of the Obregon Road Detention Pond Improvements.
---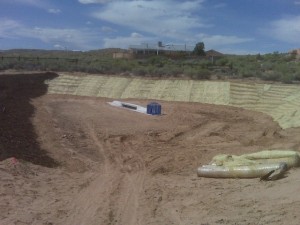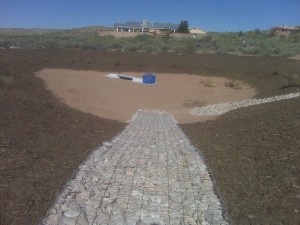 This project includes the construction of a detention pond, reinforced concrete pipe (RCP), and two storm drain inlets.  The project also serves as a pilot study for incorporating innovative, environmentally friendly, water harvesting and erosion mitigation techniques.
The project site is located near the intersection of Obregon Road and Saratoga Road across from Enchanted Hills Elementary School.
Two (2) informational/educational videos were developed as part of this project.  The first video illustrates the processes and techniques used during the construction of storm water detention facilities.  The second video focuses on erosion control measures and techniques that individual homeowners can incorporate on their own to reduce erosion and storm water runoff from their property.
Informational Video 2008 from SSCAFCA on Vimeo.
SSCAFCA Erosion Control Video from SSCAFCA on Vimeo.
Please contact us at 892-7946 for more information.
Construction of this project began in early August, 2009 and was completed in November, 2009.
Project Highlights
Construction of a detention pond
RCP storm drain
Storm drain inlets and erosion control measures
Informational and Educational Video Production
Engineers: WHPacific and GC Engineering, Inc.
Contractors: Joiner Construction and Soilutions, Inc.
Project Duration: August, 2009 – November, 2009
Southern Sandoval County Flood Control Authority (SSCAFCA)
Chairman: Mark Conkling
Directors: Donald Rudy, Steve House, William C. (Dub) Yarbrough, John Chaney
Executive Engineer: David Stoliker, PE