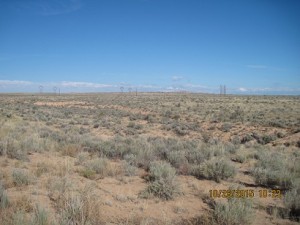 Future Site of the Upper State Land Office (SLO) Dam
Now called the Campus Dam
Work on the Upper SLO Dam began on January 5th 2016. The goal of this project is to provide a 48 Acre-Foot detention basin to reduce the peak flow from 1480 Cubic Feet per Second (CFS) down to approximately 510 CFS, which will be discharged in a controlled fashion, greatly increasing downstream safety of the CNM campus and downstream properties. This facility will be the first facility constructed on the Barranca Arroyo and will help increase storm water quality by removal of debris and floatables from storm flows originating in the upper basin. The reduced outflow from this project will remain in the traditional arroyo channel which bisects the CNM Rio Rancho campus. SSCAFCA is currently working with CNM to maintain this arroyo in a natural state and incorporate it into an outdoor classroom educational area. The construction will only include hardened elements at the inlet and outlet, the remainder of the site will be maintained in a natural state to conserve the maximum amount of habitat. The arroyo system with the CNM campus will be developed into a living classroom to allow students to observe the physical and environmental characteristics of a natural arroyo system.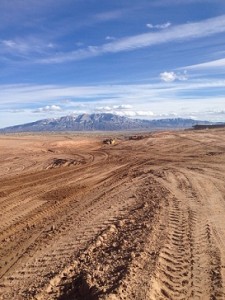 Mass Excavation and Grading Activities are ongoing. All Archeological Sites have been fenced off and SWPPP Measures are in place. The project is 20% complete and on schedule for completion in June 2016.
Please note: ALL visitors to the site are required to check-in with the Project Superintendent, Gabe Pena, at the project trailer. ALL visitors are required to have hardhat, vest and other appropriate personal protective equipment.
On March 1st the Upper SLO Dam was re-named to Campus Dam. The project is 50% complete with the outlet concrete box culvert(CBC) floor and Energy Dissipater floor constructed. In the next two weeks: continued earthwork and grading activities, outlet concrete box culverts placement and the form footing for the inlet structure retaining walls will begin.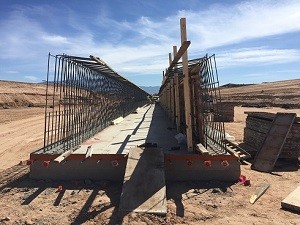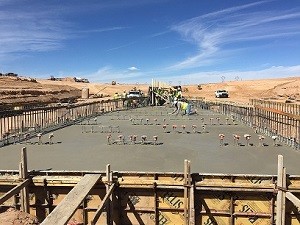 For the week of March 21st:
Activities planned the next 2 weeks: Inlet retaining walls and principal spillway structural concrete placement, begin backfilling all footings, and construction of dam embankment. Since the last update: the concrete box culvert is completed, energy dissipater is constructed and the project is at 53% completion and on schedule.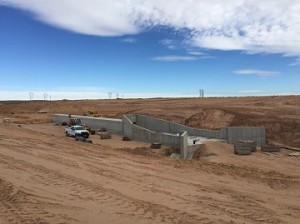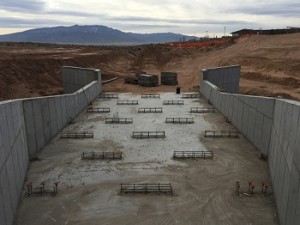 Campus Dam updates as of June 2016
The soil cement is scheduled to be completed by June 10th. The project is 95% complete to date.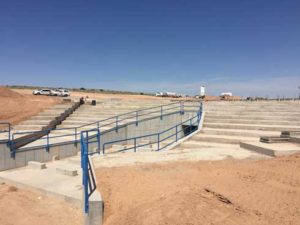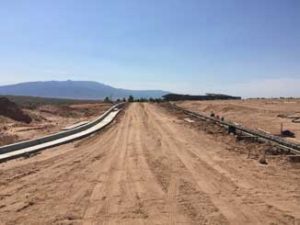 continued curb and gutter construction, line swales and riprap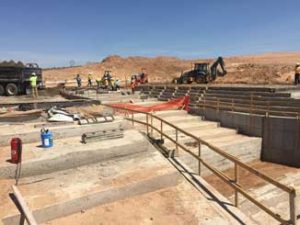 Soil cement lifts