SSCAFCA COLLABORATES WITH RIO RANCHO HIGH SCHOOL STUDENTS ON ARROYO SAFETY AWARENESS VIDEO JUST IN TIME FOR MONSOON SEASON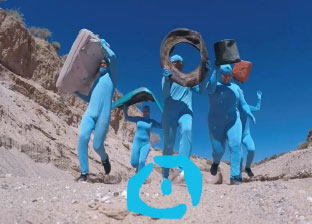 Rio Rancho, NM — The Southern Sandoval County Arroyo Flood Control Authority (SSCAFCA), recently completed an Arroyo Safety video with the help of the Rio Rancho High School Tree Stewards student group and their teachers, Daniel Trujillo and Laura Saulsberry.
In order to reach their peers with a message that would attract their attention, the group decided to use humor.
"We wanted something that would stand out among all the other visuals we are constantly bombarded with on our phones and mobile devices," said Eric Sommala, president of the Tree Stewards.
The high schoolers' video is a unique, effective way to educate teens on the importance of following specific safety measures while they are outside. The spot shows how the dry, sandy arroyos in the southern part of Sandoval County can flood quickly from distant storms in the west, even when the sun is still shining overhead. The flash flood, carrying dangerous debris, is portrayed by about a dozen students dressed in blue suits, each carrying an actual piece of trash recovered by SSCAFCA after a storm event.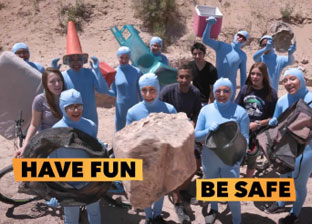 "We really had a great time making the spot and it was extremely educational. Most of us had no idea how powerful a flash flood could be until we saw some footage. It was intense," added Sommala.
Chuck Thomas, Executive Engineer at SSCAFCA, explained, "We received funding from FEMA (the United States Department of Homeland Security's Federal Emergency Management Agency) to produce an Arroyo Safety program because it's important to educate the community about how and when to avoid the dangers of flash flooding in our arroyos. We encourage everyone to get out and enjoy nature. Our sandy arroyos are perfect for walks, hikes or taking the dogs out. But there are definitely rules to follow and weather to watch out for, especially during the monsoon season, to remain safe."
Floods are the most common natural disaster in the United States, and flash floods can occur with no warning. Knowing what signs to look for and how to react can save lives and help avoid serious injuries:
Watch the weather report and stay out of arroyos if rain is forecast.
Keep off the fragile walls and banks of arroyos – they are unstable and can collapse.
Keep an eye on the western sky – Southern Sandoval County has 12 watersheds that channel water from the west all the way to the Rio Grande.
Never walk, swim, or drive through flood waters. Move to higher ground.
Just a few inches of moving water can knock you down and moving water can sweep your vehicle away.
Dispose of trash appropriately and keep debris, including yard waste, plastic bottles, large appliances, and dog waste out of arroyos and off the mesa.
The video can be seen on SSCAFCA's website: sscafca.org/know‐your‐arroyos/ and is also posted on YouTube at https://www.youtube.com/watch?v=wytAIb_MdfA&t=3s